Install a high efficiency gas boiler to reduce energy costs
Why settle for a gas boiler that's only performing at 70% capacity if you can have one that delivers 90%+ efficiency and reduces your energy usage? Gas boilers that are more than 10 years old are prone to reduced efficiency. They also consume more energy driving up utility bills. The sooner you replace them the more you will save. Heat Services Ltd installs technologically advanced heating systems for domestic and commercial properties in Laois, Offaly, & Kildare.
Our high-efficiency Gas or Oil boilers
Deliver optimal savings and comfort
Come with SEAI grants that lower your installation expense
Reduce energy usage and pay for themselves in a relatively short span of time
We use our expertise to lower your heating costs and deliver uninterrupted, high performance service.
Call 0578756504 for a free Gas/Oil boiler estimate for your home or business.
We are fully registered with the RGII (Registered Gas Installers Ireland) which is the new regulatory body put in place by the Irish government to supervise the work of Gas Installers in respect of safety.
SEAI grants and financing options will help lower your installation costs.
Home Energy Grants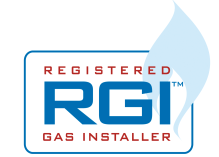 We are a Sustainable Energy Ireland (SEI) Registered Installer (SEI Reg. No. 10361 and you may be eligible for grants under the SEI Home Energy Saving Scheme (HES) to cover part of the costs of a new heating installation (see Heating Controls) or upgrade to your heating system (see Boiler Upgrades) with a new energy efficient boiler.